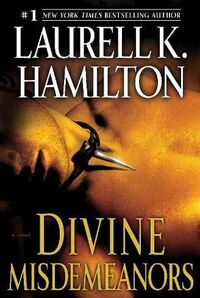 Divine Misdemeanors is the eighth book in the Meredith Gentry series.
To protect her unborn children, she turned her back on the crown, choosing exile in the human world with Frost and Doyle, and her fellow exiles from the faerie courts. Yet she cannot abandon her people. Someone is killing fey, which has left the LAPD baffled and the guardsmen and her deeply disturbed.
Set in Los Angeles, the faerie princess/private eye is called in to consult on a serial killer who crafts hideous tableaux of butchered demmi-fey. While Meredith hunts for the killer, her stable of guards struggle to protect her from herself.